Many of us dream of the day we walk into a café and need not say a thing but lock eyes with the barista, igniting that special stare that ends in a single nod. They know what to do and the crew are already doing it. This is what has come to be expected of the Bay Ten goers. 
A place to become a regular
A place to become a regular
Bay 10, Middlemiss Street
A single shipping container with a rather notorious past sits centre stage as the shop front and barista station for the multi-award-winning café, Bay Ten Espresso. Hailing out of a previously abandoned warehouse along an industrial laneway North of the bridge, the architecture of the space is as noteworthy as the self-confessed misfits that run the show.
The band of unpretentious, humbling individuals behind Bay Ten have come together to create something truly extraordinary. Through reliably tasty food, specialty coffee, and their upbeat quirk they have transformed a dead space into what has come to be a second living room for the local crowd as sought after as the heart and soul of the North Sydney neighbourhood.
Serving Monday to Friday
7:00am until 3:00pm
Feast on Live Music Fridays
12:00-2:00pm
Middlemiss Street,
Lavender Bay
Middlemiss Street,
Lavender Bay
A café that's raw, honest & reclaimed
In honour of the century-old heritage of the warehouse the fit out inspired to be raw, honest, and reclaimed so when they got word that There's a shipping container on offer, they knew it would be the perfect upcycle for the spot in the foundations of the harbour bridge.
Surrounded by vintage wooden pallets, long metal tables, and Brentwood-style stools to make up the seating, customers have views of exposed walls with layered history and overhead are unreachable ceilings. Legend says the container was adopted from a police auction after it's starring role in a major drug smuggling operation. It's structural integrity compromised to line it with hundreds of kilos of pseudoephedrine but these days, the cafe uses the container to serve up a less illicit kind of fix.
Pick-me-ups on offer in the laneway are provided by the passionate craftsmen at White Horse Coffee with their flagship blend, White Knight, and a rotating menu of Single Origin varieties roasted over the bridge in Sutherland. If you're a real fan then you'll know Bay Ten's place in Lavender Bay is the only cafe on the North Shore to get a sample of this richly, smooth brew. For a morning that cannot be faulted – saunter on into the warehouse, order yourself a flat white and settle into a seat at the back by the window letting the warm sun touch your cheek while you sip your woes away with this specialty experience. 
Specialty coffee, tasty food and an unforgettable experience
Not just a place for a good cuppa, Bay Ten's seasonal menu is a reliable all-rounder. For those in need of a hangover cure, there's the B&E roll featuring a wicked smokey BBQ sauce and if you want to go for a whole hot mess then you can add a hashbrown, avo, and a dose of chilli. But if you're a cyclist on a pitstop then maybe something on the health conscious side is more your speed, in that case there's the house granola which is like a far better version of a trail mix and when coupled with a double espresso you will be breaking records as you zoom into the city for work.
"My new favourite is the Green Toast – like the name, it's packed with delicious greens. There's a minted pea mash, sugar snap peas, citrus whipped feta, and I always like to add a poached egg." 
"I always start work with a soy cap on the White Knight Blend."
"Anything with Jack's Smokey BBQ sauce."
Come for the coffee, stay for the banter
Born from tired ears listening to the daily nagging of the working folk in the office above, Bay Ten Espresso came to light because there was simply no where else in the area you could get a decent cup of coffee. What began as an idea for a basic espresso cart has turned into a draw card for the coworkers of Work inc, local inhabitants and just about any other self-confessed misfit looking for acceptance. Walking through the roller doors of Bay Ten you're met by a jolly crew to greet you like family and as you walk around you realise every walk of life is calling on this place.
For some, it's a welcomed urban escape from whatever is on your mind. For others it's a chance to impress clients, friends and family with your local find. The dynamic team ensure every visit includes smiles, care, and cringing looks from their seriously terrible jokes, and it's okay if you don't get them, sometimes we don't either. Hidden at the top of the laneway, the café has become the heart and soul of the neighbourhood where every afternoon is ended with the booming voice of Rhyss the café manager saying – "Have a good avocado, I'll see you tomato!"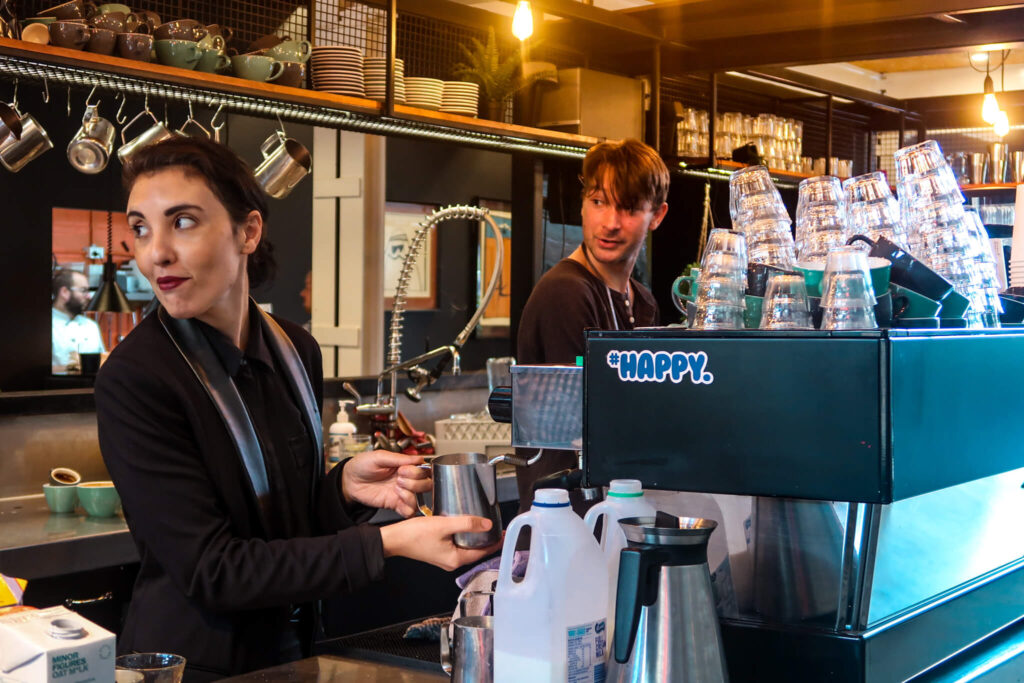 Do not be alarmed when you catch one of the Work inc team rolling up their sleeves to clean away dishes or jump behind the coffee machine when the baristas are under the pump; we're all one big family so when one of us needs a hand we are there to help out. Bay Ten Espresso is Work inc's cooler sibling and it's the reason we actually got into coworking in the first place but that's a story for another time. 
Uncover the whole story behind Work inc