No one enjoys the task of finding a new office but there comes a point in the business journey where you either need more space or a bit of a shakeup for the better.
Here's everything you need to know before choosing a coworking space
Looking at the market, there's certainly no shortage of choice with offers like private offices, coworking spaces, serviced offices, shared workspace, dedicated desks and hot desking – they're all variants on a similar theme. Over here at Work inc we are a coworking space that offers private offices and dedicated desk options.
No matter which avenue you venture down, you ultimately want an office that's dedicated to enhancing the way you and your team operate. And honestly, there are some big boxes to tick.
1. Why Choose a Coworking Space Over Other Types of Office Space?
For most, the drawcard for a coworking space is the people.
It doesn't matter how beautiful the space may appear, when there are no people there's no vibe and without it, work can feel like a hindrance, or rather, it feels uninspiring and monotonous.
It's not just the diversity of people that stream into coworking spaces each day that makes these places so attractive, it's also the ease at which you can get started.
When a business takes on their own lease in an office building they have to look after everything themself including expensive upfront costs – internet setup, electricity/water bills, furnishings, IT backup, long-term commitments, physical office managers, and ensuring access to amenities, plus, trying to keep up with all the perks your competition offer their employees.
Coworking spaces like Work inc are all-inclusive and flexible to adapt to your varying business needs.
Meeting rooms, printing, breakout spaces, internet, concierge services, and access to amenities like fully-kitted showers are all included in the monthly rent. The only thing you and your team need to worry about is bringing your computers to work (we can even lend you a laptop charger if you forget). Work inc looks after it all, leaving you to spend more time on the important things, your business.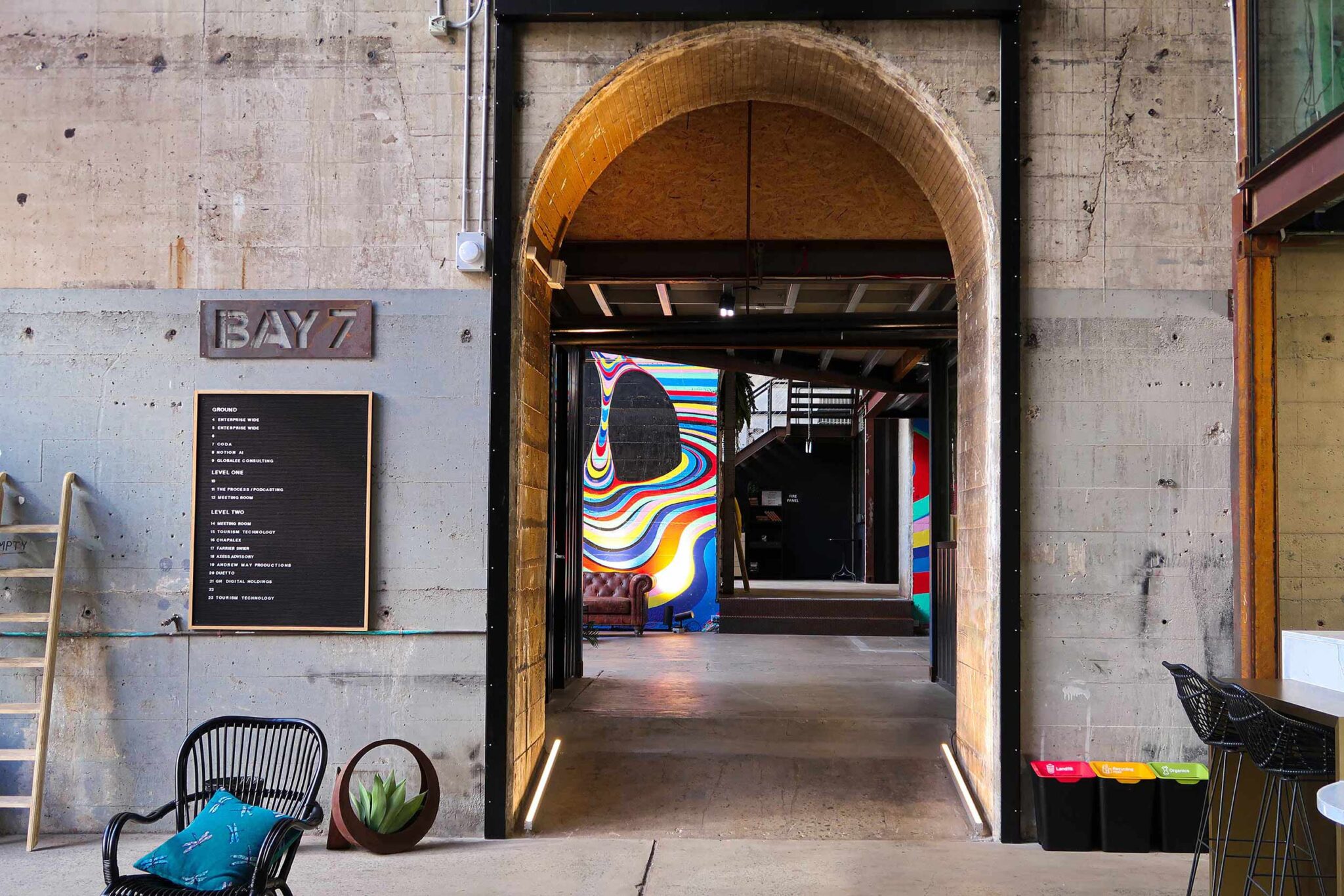 2. Community – Without people, we'd just be furniture in a warehouse
It's true, without our people we'd just be furniture in a warehouse, a cool warehouse though.
When you choose a coworking space, you're also joining its community. Each day you are surrounded by talented entrepreneurs who probably have seen the same highs and lows as you and there's comfort in having like-minded neighbours to lean on.
If there's one thing that people always say when they walk through our warehouses, it's that there's a real vibe. But we simply cannot take all the credit, it's the community we've grown and it's a cherished part of our ecosystem.
3. Location – If you want your team to get amongst the action, it's imperative that your workplace is well-connected
Your location should be easy for employees and clients.
Lucky for us, we're accessible by just about any method. Train, bus, ferry, car, bike, and we've even had kayakers come to our door.
But it's not just about getting to and from the workplace.
Your office location is important for the kind of lifestyle you wish to live. If you're near vibrant nightlife, then there's a greater chance of getting together for casual after-work drinks, and if you're located amongst parks, gyms, and running tracks then it's handy for the active ones. Your workplace should also have you covered for showers and towels so there's no worrying about sweaty afternoon meetings.
4. Space and environment – Don't underESTIMATE the power of the physical space
The only way to truly understand how your business will engage with the space and environment of a coworking community is to tour the building.
Most coworking spaces should offer free tours without making you commit to anything. This is the perfect time to put your feelers out and test the waters.
As you walk through our conjoined warehouses, you won't just be taking in the century-old heritage space but you'll also notice it's well-designed, modern fit out with eclectic spots to take refuge in. You want an office that's going to make for an impactful first impression for clients, and your future team members. But don't forget about friendly service.
Beautiful workspace with unrivalled service – that's what you want.
When your visitors turn up, you would like to feel safe in knowing that they'll be looked after by reception and that if anything goes awry in the space, then there's a crew to call on for a hand. And that includes wifi outages, last-minute gift ideas, and secure package handling to name a few.
"Your standard office is a dead zone for creativity and says nothing about your culture or identity. The physical space is equally important to building a business. You have these soaring heritage walls, light flooding in through windows that are a century old… Coupled with an encyclopedic array of individuals working on their business dream, you can't go wrong."
– Work inc Founder, Mark Davidson
5. Amenities – Office hours take up much of the day, ensure you've got the right foundations for a balanced lifestyle
We spend more time at work than anywhere else. 
It's true. If we really think about it we want to make sure that place, where we spend so much of our time, is set up right for us with everything we need to live our best lives. So, you'll need to factor in all the amenities that will be important to you and your team. And it's not just about a fun coworking space with table tennis, bean bags, some beers, and maybe a shower if you're lucky. There's a little more to this. 
There is a range of amenities you'll want to consider, but one of the talking points of the bays at Work inc is our breakout spaces. Each one is a marvel for the eyes with a unique flavour, suited for a different task.
– If you're looking for a quiet spot to do some reading, blogging, or catch-up on emails, then a cosy armchair for your comfortable concentration is just for you.
– Need a spot to take a call or have an informal catch-up? Each bay has a kitchen table and you'll find a bench for perching, cushy chairs for reclining into conversation and dining tables for more collaboration and the team lunch.
– After a bit of fun? Then it's a trip to our merriment breakout space with table tennis, darts, and a beer fridge stocked with craft beer, sodas, ciders, and little surprises.
– Need more vibe or background noise? Head down to Bay Ten Espresso and set yourself up for a productive and caffeinated session. It's our underdog location for winning over clients or new employees with the cafe crew's quirky humour, loveable charm, and killer taste in music.
Other amenities you'll want to look out for include:
Showers for midday gym sessions or the morning active commute (kitted with towels, and shower products. And GHDs at request)

Mobility access

Secure, high speed internet (more on this later)

Kitchen facilities (ours are stocked with tea, coffee, milk and lollies!)

Well-maintained restrooms

Security

Reception service (we pride ourselves on service so think of our team like one you'd find at a boutique hotel)

Natural lighting and fresh air (a total must!)

Air conditioning and ventilation (our air-con system is set up that each office has their own air. There's no sharing another office's air)
6. Good coffee – Whether it's your pick-me-up of choice or not, a soulful cafe is the perfect watering hole for any occasion
There's a reason good coffee means a good mood.
Whether you drink tea, hot chocolate, liquid gold or you hold another beverage as your treat of choice; close access to a simple comfort can make or break your work day. Bay Ten Espresso is our in-house cafe and it's a far cry from a lobby cafeteria. We think of Bay Ten as our healer. If it's one of those days where everything's going wrong, the cafe crew are sure to crack a smile into you. They also pack an inviting menu for every appetite and palette, as well as, live music each Friday afternoon. Plus, they're fully licensed!
7. Networking opportunities – take as much or as little from your coworking community but know that when you're in a jam, they're there to support you
Knowing the right people can get you far, so imagine if you were surrounded by humans from every industry with diverse backgrounds, skills, and perspectives.
That kind of exposure could be a total game changer for your business and personal progression. Coworking spaces are environments packed with brilliant minds, and by nature, they're friendly and selfless people who if you asked, would happily sit down for a chat so you can pick their brain.
It's commonplace to find our members teaming up on a niche project, or catching up over coffee to hear the latest industry news or lend advice from their own experience. These kinds of connections and insight you just can't buy, but a coworking space is where you will find it in droves. And if striking up a conversation with a stranger is tricky for you, then there's always the Work inc team to be your mutual friend that puts you in touch with that special someone. 
You never know where a casual conversation may lead. So, if your neighbour is offering up some water-cooler wisdom, we say take it all in and pay it forward.
The Take-Home – All the questions you should be asking about your future workspace
Our goal is to help you find your right match so, here are some questions you should always ask when checking out a new workspace:
Are there extra costs? E.g. Meeting rooms, kitchen use, printing, etc.

Does my team have 24/7 access to amenities? 

What backup do you have if there's a wifi outage?

What kind of security is there around the wifi network?

How does booking of meeting rooms work? Is it run on a credit system?

Do they charge extra for using the premises as a registered business address?

Does each office have individual air conditioning units?

Is parking available?

Are there podcasting facilities?

Do they hold events, and when was the last one? Is it easy to meet people?

And most importantly, is it dog friendly?
As a business owner, you want to make sure what you're paying for is going to be the best fit for your team, company culture and strategic direction. So, before you jump in, always ask questions, tour the space and keep your own business needs in mind.